How it Works
Learn how to use TouchStoneSoftware UndeletePlus file recovery software
Download TouchStoneSoftware UndeletePlus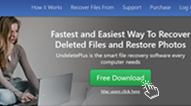 Scan Your Device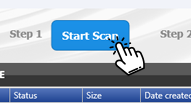 Select Your Files and Restore Them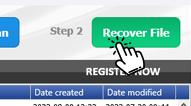 Recover Your Files in Four Simple Step
Have you deleted a file from your computer and emptied the Recycle Bin only to realize that you've deleted an important document? Don't fret! You can still easily get the file back with the help of UndeletePlus. Our file recovery app is powerful, smart and very easy to use.
Why Is File Recovery Possible
It's possible to recover deleted files thanks to the way your computer works. When you delete a file or a folder, the operating system doesn't erase it immediately - it rather removes its name from the index and marks the space occupied by the deleted file as available. The file is still there even though you can't find it by the usual means like browsing your folders or using the Search feature.
The reason why your operating system doesn't erase files immediately is simple - that way it extends the life of your HDD or SSD by minimizing the number of read/write operations. Put simply, it makes much more sense to mark the space as free instead of overwriting it with random data just to delete the file. This means that if no other files or data need that space, the "deleted" file will still be intact and available for recovery.
How to Recover Files with UndeletePlus
Getting your files back with the help of UndeletePlus is easy - all you need to do is follow these simple steps:
Stop using the computer as soon as you realize that you need to perform file recovery. Doing that will make sure that no other data will overwrite the file(s) you want to undelete.
If you already have UndeletePlus installed, open it and run a scan for deleted files. If it's not installed, then download it to a USB thumb drive or any other removable media and run it from there. This will make sure that installing the software won't overwrite the files you want to restore.
Once the scan has finished, browse the list of recoverable files and select the file(s) you want to undelete. Use the search feature to speed things up if you know the file name.
Click on the Recover button to restore selected deleted files.
That's it! As you can see, UndeletePlus is the easiest to use file recovery app! And if you want to recover photos, use the Photo SmartScan mode for advanced recovery of deleted image files.